Graduate Profile
Barbara Lyons-Stewart (2008 Graduate)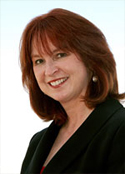 GGSFS graduate, architect and interior designer, Barbara-Lyons Stewart transformed her work as an architect designer into a career as an instinct-based design specialist when she experienced a reconnection to the natural world through feng shui.
"I became interested in feng shui because I wanted to understand how the space that architects design affects the people who live and work in them. Modern Environmental Psychology only explains some of the pieces. When I initially heard about feng shui, and learned that this ancient environmental healing art had been practiced for more than 3,000 years, I realized that there must be some basic core of truth there and began studying.
My architectural practice, Lyons Stewart Architects, is based in San Anselmo. For years I provided Corporate Interior Design Services to San Francisco clients like ABC/7. I began adding "feng shui architecture" services for clients specifically interested in feng shui. In 2006 I co-authored Feng Shui: A Practical Guide for Architects and Designers with Vincent Smith of Panergetics consulting firm. I attended GGSFS in 2007 and 2008.
Once I attended the GGSFS program, I discovered where I needed to head professionally. I began the program feeling that I was at a crossroads. Which path did I want to take? Was my focus still architecture? Or was it feng shui? Should I design spaces personally or use my knowledge to teach other professionals? By the end of the program I had moved in a new direction.
I developed "Instinct-Based Design Principles", which are based on both ancient and modern forms of environmental psychology and on human behavior. I apply these principles to help building owners and architects design environments that will create positive experiences for people who live and work in them.
This year about 40% of my work will be "Instinct-Based Design Consulting" for corporations and healthcare organizations. That's the work I'm most passionate about. Presently I am working as a consultant to Kaiser Permanente for their new Oakland Hospital, and may begin studying a second hospital shortly. I do still provide traditional interior design services to occasional corporate clients who request my help.
Before taking the program, I never considered myself to be an outdoor person - no hiking, climbing or biking for me! I had never really felt a personal connection with the earth. Learning to dowse, participating in earth healing ceremonies, and interpreting earth formations gave me a gratitude and awareness that has changed my life.
The GGSFS curriculum gave me training in all the important areas within the 'compass schools' of feng shui. It is
an amazingly well-rounded curriculum. I would tell anyone considering the school that Golden Gate School of Feng Shui is for people who are serious about learning all aspects of feng shui. It offers tremendous opportunity
for personal and professional growth and change."
Were you inspired by Barbara's story?
Read more graduate experiences here

Are you ready for positive change in your life or career?

Click Here to learn more about our school