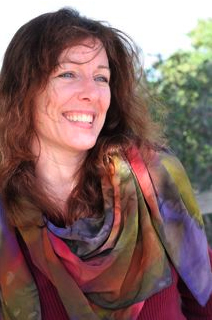 I decided to attend Golden Gate School of Feng Shui because it offered an education with a deeper wisdom; that's what spoke to me most. I felt that a profound 10-month program would help me fully commit to this study in order to gain a thorough understanding of such ancient and pertinent knowledge. Primarily, my interests were in Eastern philosophy and earth energies, otherwise known as geomancy.
Prior to attending the program in 2006 I had been working for a small internet company where I felt the need for change. I wanted to learn a sustainable way to be in service to humanity and love the work I was doing.
My experience of the school provided me with exactly what I was hoping for. It gave me useful tools that could be applied for practical use everyday. Feng Shui principles are building blocks for life; they come into play when we talk about the health of our planet, water, air, and our use of energy. Feng shui is an art that everyone can benefit from. It includes the beauty of energizing a space and positively energizing our hearts. It's about balance.
I now have a feng shui business and I'm loving teaching and holding seminars on this and related subjects. I've been offered an ongoing teaching engagement with a school in Sacramento, and I continue to further my education and to expand my ability to share this sacred wisdom with others. I design gardens and outdoor spaces that are inspiring, peaceful and relaxing.
I feel feng shui is a cornerstone of a larger structure of thinking that is essential to build and communicate to people. Through this study I have sought out a mechanism, a path, to further fulfill my purpose.
Through attending the school, I acquired a confident foundation to make many changes in my life and develop a language from which I can speak to others. I am so grateful for all the wonderful people I met during the process. When I'm in contact with students I trained with I always tell them how much I miss them and the community we shared during our journey. The experience was something truly special.


Were you inspired by Jane's story?
Read more graduate experiences here

Are you ready for positive change in your life or career?

Click Here to learn more about our school