Howard Choy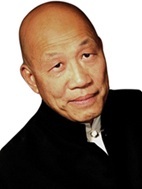 Australian architect, and international feng shui lecturer, Howard Choy was born in China and immigrated with his parents to Australia when he was very young. After completing his BA degree at the University of NSW, he began to study feng shui in 1978, in Hong Kong, under personal direction of Master Ren Zhilin.
Throughout his education, Choy visited and studied with various Feng Shui experts in China including Professor Wang Yude of Huazhong Normal University, Wuhan Professor Cheng Jiangiun of Huanam University of Technology, Guanzhou.
Due to his extensive knowledge, Howard was included in a monthly column on Feng Shui for 'Better Homes and Gardens' magazine as well as a weekly column, 'Feng Shui for the North Shore Times'.
Howard is author of 2 companion volumes which include, "Feng Shui: Creating, Health, Wealth and Harmony" and "Qigong: Feng Shui for the Body". He is co-author of, "Feng Shui – How to Create Harmony and Balance in Your Living and Working Environment".
Howard was a pivotal figure in establishing the International Feng Shui Society in 1998. He has carried out many Feng Shui consultations and has participated in various public, commercial and residential works. He is responsible for such projects as The Urban Upgrading of Sydney's Chinatown for the Olympic 2000 Games, which has won the Australian Institute of Landscape Architects NATIONAL PROJECT AWARDS 2000, and the Sydney Chinese Garden of Friendship in 2006.
Choy is the current president of the Feng Shui Society of Australia. He teaches Feng Shui, Tai Chi and Qigong in Australia and Europe, including Denmark, England, Finland, France, Germany, Italy, Austria, Poland, Italy France and Switzerland. Due to the increasing demand for his teaching and consultations, Howard is now mainly operating from Berlin as his base.
Below is an interview with Howard: