Robert Sachs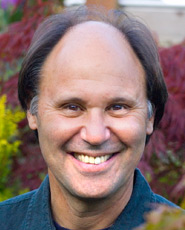 In his dedication to seeing people receive information that is both relevant and useful to their daily living, the work of Robert Sachs covers every facet of the human experience.
Born in Cleveland, Ohio, Robert's most formative education in oriental philosophies and healing arts began when he moved to England during his late teenage years. It was there that he received his B.A. in comparative religion and sociology at the University of Lancaster, began his studies with Tibetan Buddhist masters, and was introduced to the Asian healing arts with such renown teachers as Macrobiotics master Michio Kushi and shiatsu master Rex Lassalle and began training in hatha yoga. Before returning to America in 1976, Robert was certified as a yoga instructor by the All India Board and Inner London education Authority. He also completed a conventional training as a mental health counselor with the Richmond Fellowship College. A later stint in London saw Robert completing his shiatsu training with Rex Lassalle and being instrumental with his wife, Melanie, in starting the Community Health Foundation's "Growing Family Center."
With a desire to enrich and further his studies both in bodywork and mental health, Robert went on to receive a massage license from Central Ohio School of Massage and a Masters in Social Work at the University of Kentucky. Affected deeply by the death of one of his daughters during this time, Robert's social work and spiritual practice lead him into the study the conscious dying practices as found in the Tibetan Buddhist tradition and has been a member of Sogyal Rinpoche's Spiritual Dying Network and the National Hospice Organization.
Along with his wife, Melanie, Robert has pursued studies in Indian and Tibetan Ayurveda for over a decade. Recognized by such teachers as Dr. Deepak Chopra and other physicians of both eastern and western traditions, their published works in this field are considered to be among the clearest and most usable texts available.
With a educational background and training that is as conventional as it is 'alternative,' Robert works with physicians, clinics, hospitals, and private individuals and organizations, teaching them how to integrate contemporary scientific approaches with the ancient wisdom traditions in the areas of stress management, preventive health care, and relationship and group dynamics. He is a guest instructor for the Chopra Center for Well Being in San Diego and lecturer in Tibetan Medicine for the Sino-American Rehabilitation Association College in Los Angeles.
Robert is the author of Nine-Star Ki: Your Astrological Companion to Feng Shui(Vega Press 2001), Tibetan Ayurveda: Health Secrets from The Roof of The World (Inner Traditions, 2001), Rebirth Into Pure Land (Diamond Way Ayurveda, 1994), Perfect Endings: A Conscious Approach to Dying and Death (Inner Traditions International, 1998), The Passionate Buddha: Wisdom on Intimacy and Enduring Love (Inner Traditions, 2002), The Buddha at War: Peaceful Heart, Courageous Action in Troubled Times (Watkins Press, 2006), and his and Melanie's most recent book to promote Ayurvedic treatments and wellness for individuals and therapists, Ayurvedic Spa. Most of these titles are available in several European languages.
His book, Nine Star Ki, originally published as The Complete Guide to Nine-Star Ki is considered one of the finest and most useable books on the subject, it is now available in German, Dutch, Spanish, Greek, and Bulgarian.